3-way Stopcock(with Extention Tube )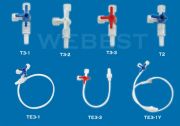 Features
360 Rotation (3-way stopcock)
For pressure up to 4.5 bar (65 psi)
Options available :

Liquid resistant grade
Red、white and blue pegs for arterial and venous line identification
Two female fully threaded luer lock ports
Transparent base and legs
Flow indicator on tap poaition of handle indicating open ports
Flow rate in excess of 250ml/in

Extension tube with three way stopcock at one end and male luer lock connector at other end
Soft, frosted and kink resistant PVC tubing
Tube length : 10, 30, 50, 80, 100, 150, 200 cms
Extension Tube : I.D. : 3.0 mm and O.D. : 4.1 mm
Also available with "Y" injection port (Latex or Latex - free)
Made in China
Brand:TST
Distribution exclusively by Salamat Tehran Co.
Packing:Paper-plastic package
Pictures
Contact Us
Address:
First floor, No.46, Shaghayegh Street, Valiasr Sqr, Tehran, Iran
Post code:
15938-34113
Tel:
(+98 21) 88936794
88946795
88937306
88937940
Fax:
88935503
Email:
info@salamattehran.com